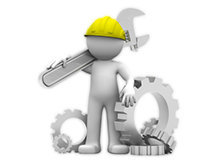 Fribzi Multi Technologies Pvt. Ltd.'s core competency lies in offering tailor- made solution in Wireless, Wi-fi, Internet, Structure Networking, CCTV Surveillance, Remote Access Systems & Software Development. We have been the pioneer in developing standards for web related application development, like E-commerce solutions, Horizontal as well as Vertical Portals. Developing scalable enterprise solution & integrating the same across is one of the strength of us.
Besides Wireless, Wi-fi and Structure Networking, we also specialize in Wide Area Networking. We offer wireless services comprising; solutions and product development. As part of solutions we offer Wireless Local Area Networks (WLAN) and Wireless Metropolitan Area Networks (MAN). We have a strong development and network design group, which enable us to provide total, cost-effective solutions for enterprise-wide data / voice / video connectivity. We also provide consultancy services in designing and developing customer specific RF products and connectivity solutions. From time to time we conduct networking training programs, through which, we share our rich experience in various topics of communications and networking.
We are also an Internet Service Provider (ISP) company in Wardha, with very strong backbone developed on Fiber Optic Cable. This service is being provided on total Wireless and Wi-fi based system with the help of centrally located Base Station (BTS) at our office and by installing required Customer Premised Equipment (CPE) within promised range. We have the facility to provide Internet via Wireless Connectivity within 50 Km range of Wardha. In addition to the High Speed Internet Service being provided through this technology, other services such as VPN, Multicasting, Video Conferencing, Video-on-Demand,Voice base Internet Telephony, IP telephony, Broadcast application other Networking services also can be provided We are proud to say that we are one and Only Company offering Internet Services in Wardha on Wireless and Wi-fi basis.
CCTV, Video Surveillance is an integral part of every business even a small lapse may cause dangerous situations. Video surveillance and remote monitoring can be considered as an enhanced management tool that can be effectively used by various departments of an organization. Our professionals are highly trained to assess and respond appropriately to any situation.
The company has its own hardware division, which deals in System Sales, Hardware Peripherals as well as Networking Solutions. We are in tie-up with good brands of Computer and Laptop companies for offering their products. Fribzi Multi Technologies Pvt. Ltd. also takes care of AMC through its own strategic alliances. We are in process of registering ourselves with so many leading Brands of Computer Peripherals and Supplies.